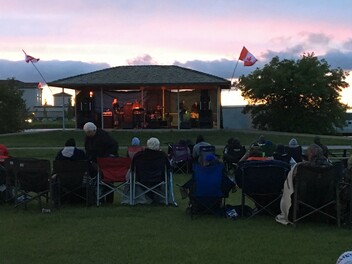 Stettler Canada Day Celebration!
It's Time to Celebrate Canada Day!
Start the day at the Stettler Town & Country Museum, beginning with an $8 pancake breakfast from 9-11 AM. From 11 AM-4 PM at the Stettler Town and Country Museum, explore what the museum has to offer throughout the morning with a scavenger hunt sponsored by ATB, check out various agricultural demonstrations in addition to a wide range of family fun activities sponsored by the FCSS including a Bouncy castle, battle axes, blow up obstacle course, ball pit, face painting, free hot dogs and so much more.  In addition, go check out the craft station, balloon animals and photo booth hosted by the Stettler Public Library.  Lastly, the Stettler Wellness Network Block Party Trailer will be on site with a variety of big outdoor games to play.  Parking is available at the Stettler Sports Park Lot, with tractor wagon rides available from the Sports Park to the Museum. In the case of inclement weather, these activities will be held at the Stettler Recreation Centre.
Evening celebrations kick off at the West Stettler Park Gazebo with cupcakes at 7pm, and live entertainment provided by the Boss Hill Band at 8pm. The night will conclude with a dazzling fireworks display beginning at dusk. All nearby public parking lots, with the exception of the West Stettler Park West Lot, will be accessible.
For full details on the day's lineup of events, please visit: www.stettler.net/play/community-event-calendar