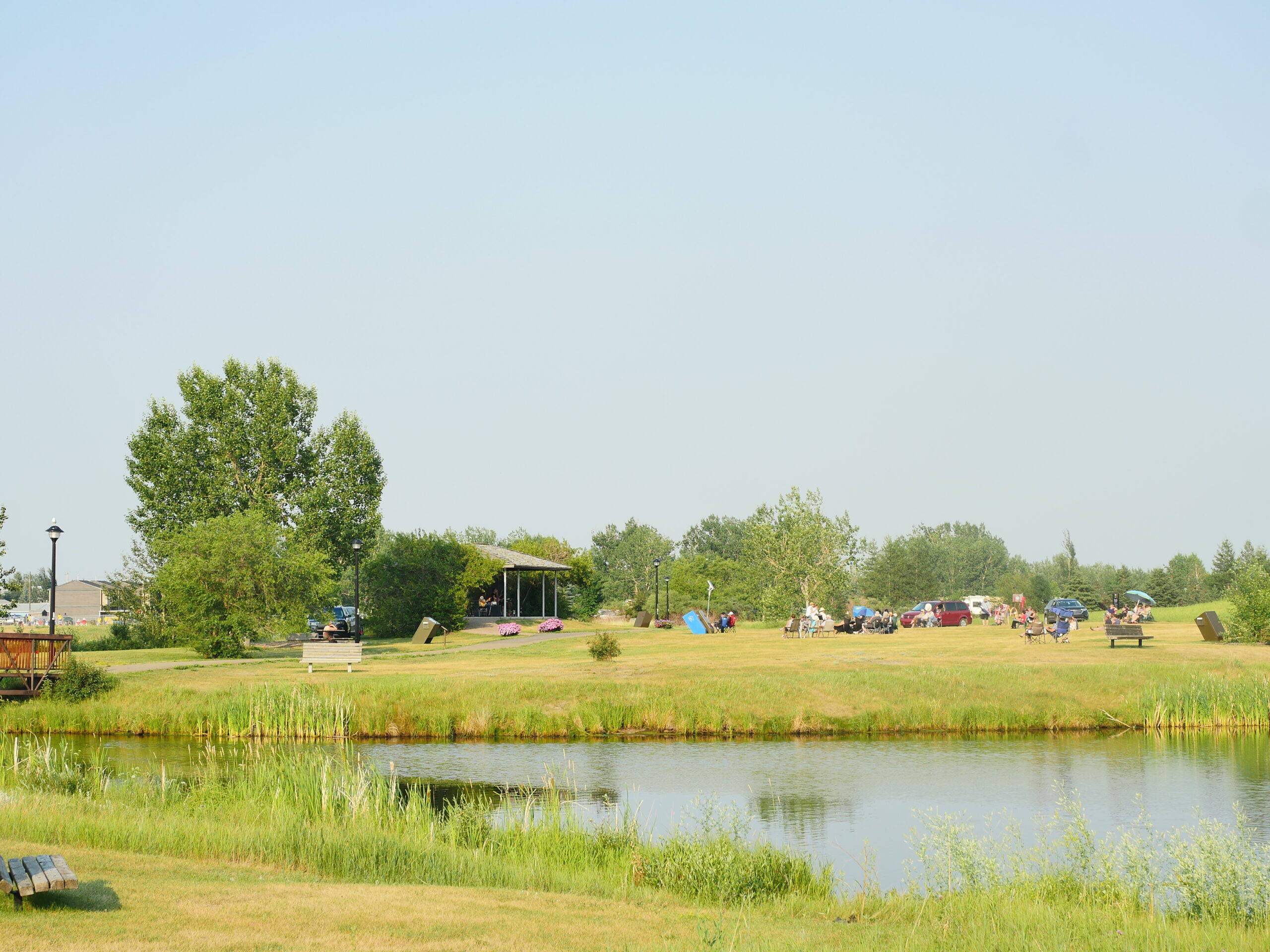 Music in the Park – The Jazz Guys
Get out and enjoy some free live music and fresh air!
Music in the Park returns to West Stettler Park in June with an amazing 2022 season line up of entertainment!  Wednesday evenings throughout summer bring your lawn chair, invite your family and friends and enjoy a free, live concert starting at 7:00p.m.
2022 Music in the Park Schedule
Wednesday, June 22 – The Jazz Guys
A group made up of local friends and neighbors who have a passion for music.  The Jazz Guys are a well known favourite in Stetter and are the perfect choice to kick off the Music in the Park season!
Friday, July 1 – Canada Day Celebration with Loose Change
It's time to celebrate and this is an evening you won't want to miss!!  Cupcakes will be served at 7:00p.m. courtesy of the Town of Stettler.  Music by Loose Change will start at 8:00p.m. and the evening will finish off with a firework show at dusk!
Wednesday, July 6 – Kym Simon
Stettler is Kym's hometown and she is excited to come play for you!  You can find her music on Spotify and Apple Music and she has a show on Youtube called Kym's Korner!
Wednesday, July 13 – Erin Ross
Hailing from Calgary, Erin as an accomplished musician who transcends any one genre.  Rooted in blues, rock, country and jazz, Erin offers something for any crowd!
Wednesday, July 2o – The Popovich's
Richard and Deborah combine comedy with classic songs, sure to please a wide range of ages and musical tastes!
Wednesday, July 27 – Renegade Station
Renegade Station is well known for their incredible harmonies, which has had them compared to Little Big Town, Fleetwood Mac and Lady A.  That is what drew them together and it is what continues to keep them together.
Wednesday, August 3 – Wheatland Band
Take three prairie boys with tender hearts, a zest for life and love of vocal harmonies and you've got the Wheatland Band.  Wheatland is acoustically based with shades of bluegrass, roots, country and celtic.
Wednesday, August 10 – Frank Peters and Constant Crisis
Frank has been writing songs on and off since '73. "A lot of memories and stories are written into my songs; from the cowboy in the cabin to a truckload of horses killed on a winding mountain pass."
Wednesday, August 17 – Off The Rails
Songs from the past and present – cover tunes and originals that pay homage to the song writing of Leonard Cohen, The Beatles, James Taylor, Bob Dylan, Randy Newman, Gillian Welch, The Indigo Girls, and Fred Eaglesmith.
Wednesday, August 24 – Overdue Blues Band
Since October 2011, the Overdue Blues Band has been providing Central Alberta with their take on blues/rock; blurring the line between the genres.  The Overdue Blues Band has been described as being "full bodied", "powerful", "sultry", "fierce", "soulful", and will have you up and dancing to their wonderful "gumbo" mix of blues and rock.
Wednesday, August 31 – To Be Determined
The final night of Music in the Park for the 2022 season.